Record Locking Checking
The record locking routines have been improved to retry again after an initial record lock was found. This will help overcome those occasions where you may have received a 'record in use' type message to the screen.
Inventory Drawings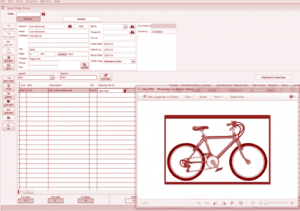 Both Sales Order Entry and Purchase Order Entry now allow the drawing diagrams of the item in the order detail line to be viewed directly from within order entry. This can be useful if your staff need to see and or describe the item as the order is being raised. A helpful, quick online picture enables them to see and describe what the item is.
Sales Order Entry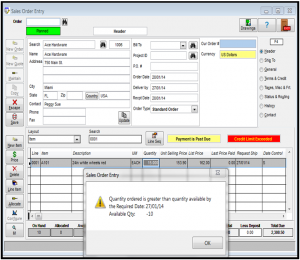 A warning screen can now be displayed when entering in a new sales order line if there is expected to be insufficient stock available of the item at the required date.
The system will check the available stock of the entered item and will see what other orders are in the system (both demand and supply orders) and if the system determines that the available stock at the required date will be short, a warning message will be displayed. This option helps you to be proactive when scheduling orders and controlling stock.