We are very excited to announce the introduction of Web Direct – a fully integrated web solution for your ERP. Fully customisable, multi currency, multi warehouse, real time!
Doing business over the web has become the norm for many businesses. Most businesses now have some sort of eShopping or eCart solution that allows their customers to trade with them. If your business is one of these, you will be familiar with the time, effort and headache required to maintain products, pricing, stock levels, etc, etc……….and, to get your customers to use it.
Web Direct changes all that.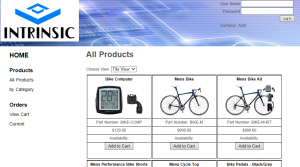 What is Web Direct? Web Direct is the next step in the evolution of electronic shopping carts. Built using the latest technology, it is a real time web solution that integrates fully and seamlessly with your ERP system. It allows your customers, your salespeople or the general public, to make online enquiries or place online orders, directly from your ERP system with full security control. No more human error, no more maintenance of duplicate data, no more lost sales.
Imagine your customers being able to complete a purchase – including stock searches, real- time pricing, secure payments, production of all paperwork – with no human intervention whatsoever. Imagine empowering your salespeople with the ability to place customer orders – including stock availability, warehouse locations, delivery times, customised pricing and more – in real time, from the customer's site. You can change the way you do business overnight.
If you would like to improve your bottom line and engagement with your customers, please contact us for a free demo.